Quadraphonic Discography


8-3-2015 VERSION 1.0
---

   This is a list of Counterfeit & Pirate quadraphonic recordings. 
   These recordings were made without the permission of the label or artists
and sold in countries that did not observe international copyrights at the
time they were created. 
   These discs were sometimes made by using the record to create a new 
stamper or simply playing the record, clicks and all, to create the new disc.
Although these discs MIGHT contain the matrix encoding or in the case of CD-4, 
the sub-carrier signal, the quality is poor. In some cases they are not even
quad and just have a label stating QS, SQ, CD-4 or even all three!
   These records should be avoided by most folks unless you are a serious 
collector and have no intention in listening to the disc.
   Counterfeit/Pirate recordings are copies of legitimately released recordings 
and should not be confused with bootlegs that are made from unreleased recordings
such as live concerts.
   This is not a complete list. Information about Pirate recordings that are
not listed here or corrections to list are greatly appreciated and encouraged
in order to help people not to waste their money.
   Country of origin has been listed to help identify where they originated from.


For additions to this list, Please include:


1. Artist
2. Title of album
3. Record label
4. Catalog number
5. Quadraphonic format (QS, SQ, CD4, UMX)
6. Format - LP (vinyl), Q8 (Quad 8-track), QR (Quad Reel to Reel) 
     since catalog numbers change w/format
7. Add a D in front of the tape format code listed above if Dolby
     was used on the tape.
8. Country of origin (U.S., U.K., Finland, etc.) since catalog
   numbers change with country of origin       
9.  Year of release
10. Any comments that might be helpful like who distributes the
   recording and address and phone number if known.


Please send any additions or corrections to this list to :

  *        /|\               *     Mark Anderson
          / | \     *              multichannel AT cox DOT net
 *       /  |  \                   
  ------/   |   \---------------        
       /    |    \                 
            |       
     
This list can be accessed from :
http://www.surrounddiscography.com



1. List compiled & Copyright by: Mark Anderson
2. All listings are Quadraphonic encoded (QS, SQ, CD4, Discrete Tape)
3. All listings are U.S. pressings unless noted otherwise with country code in brackets  [ ].
4. Updates, corrections or changes from previous version are
        indicated by an asterisk   (*).
5. Abbreviations :       (  )
	4S - Teichiku Records Japan "4s system matrix, Super Space Stereo Sound". matrix vinyl format
	      (conforms to the regular matrix (RM) standard) Some releases also mention RM or QS
	8 - 8-track
        CD4 - JVC Discrete/Matrix Vinyl Format
	CM4 - Polydor Japan Matrix Vinyl Format (conforms to the regular matrix (RM) standard)
        D** - Dolby Quad Reel or Dolby Quad 8-Track
        DY-  Dynaquad Matrix Format Vinyl LP
	EV - Electrovoice Matrix Format Vinyl LP
	HJ - BBC Matrix HJ Format Vinyl LP
	LP - 33-1/3 rpm Long Play Record
	MH - BBC Matrix H Format Vinyl LP
        Q8 - Quad 8-Track Cartridge
        QCC - Quad 4 Track Cassette
        QR - Quad Reel to Reel
        QS - Sansui Matrix Format Vinyl LP (Applies to titles marked RM)
	QX - Nippon-Columbia Matrix Format Vinyl LP (conforms to the regular matrix (RM) standard) 
	RM - Regular Matrix
        SQ - CBS Matrix Format Vinyl LP 
	**C - Matrix Encoded Cassette
	**8 - Matrix Encoded 8-Track
	**R - Matrix Encoded Reel
        UD4 - Nippon-Columbia Discrete/Matrix Vinyl Format LP
	**EP - 7", 33-1/3 rpm extended play vinyl format proceeded by quad format
	**45 - 7", 45 rpm vinyl format proceeded by quad format 
	Format? LP - Matrix format is unknown as the recording just lists
                     quadraphonic, 4 channel or something similar (most likely QS)



---


A


RONNIE ALDRICH -
	Love Story. Label GL-026 (RM) [Taiwan]



---


B


JOAN BAEZ -
	Hits/Greatest & Others. Yung Feng LF-4054-A (CD4) [Taiwan]

JEFF BECK -
	Jeff Beck Group. Artiste Style RK-006 (SQ) [Taiwan]



---


C


CHARMEUR GROUND ORCHESTRA -
	Screen Music Love And Parting. Kuopin KP-6078 (CD4) [Taiwan]

PAPA JOHN CREACH -
	Papa John Creach. TSHAW YANG Records TYCD4X-4033 (CD4) [Taiwan]



---


D


DEEP PURPLE -
	Stereo Pop Special 74. BBC Transcription Services CN 2096
{Black & White record labels are Pirate, Green and White labels are original}

THE DOORS -
	Best of the Doors. Pioneer PRC-5378 (CD4) [Taiwan]



---


E






---


F


FANTASTIC SOUND ORCHESTRA -
	The Shadow of your smile. Kuopin KP-6057 (CD4) Red Vinyl [Taiwan]

THE FILM STUDIO ORCHESTRA -
	Story of Steve McQueen. Yung Feng LF-407 (CD4) [Taiwan]
	Themes from 007 Series. Yung Feng LF-4067 (CD4) [Taiwan]   



---


G


GRAND FANTASTIC STRINGS -
	Plein Soleil. Yung Feng LF-4033 (CD4) [Taiwan]

JOSE FELICIANO -
	Rain. First FL-2313 (CD-4) [Taiwan]



---


H






---


I


MUNETAKA INOUE & HIS SHARP FIVE -
	Big Operation 4 Channel. An Sun KM-9004 (QX) [Taiwan]



---


J


JIAFENG RECORD COMPANY -
	Title Unknown. JFL-1103 (CD4) [Taiwan]
	Title Unknown. JFL-1104 (CD4) [Taiwan]
	Title Unknown. JFL-1109 (CD4) [Taiwan]
	Title Unknown. JFL-1126 (CD4) [Taiwan]



---


K






---


L


ENOCH LIGHT -
	Brass Menagerie. (CD4) [Taiwan]

LOVE ME WITH ALL YOUR HEART -
	The Arena of Music Vol. 2. Tailee TLA-75-2 (Format? LP) [Taiwan]



---


M


HENRY MANCINI -
	Mancini Country. Yung Feng LF-4016 (CD4) [Taiwan]
	Mancini Salutes Sousa. Shochiku Records SU-24 (CD4) [Taiwan]

MANDOLIN SERENADERS -	
	Mandolin Serenade. Tshaw Yang Records TYCD4X-4014 (CD4) [Taiwan]

CHUCK MANGIONE -
	Bellavia. A&M QU-54557 (CD4) [Korea]
	Chase the Clouds Away. A&M QU-54518 (CD4) [Korea]

PAUL MAURIAT & ORCHESTRA -
	Music World No. 2. Label SB-1013-1-10 [10 LP] (Format? LP) [Taiwan]
	


---


N


FRANK NAGAI -
*	Big Hits. Koupin KP-8004 (CD4) [Taiwan]



---


O


MIKE OLDFIELD -
	Tubular Bells. Hoover Records HV-NLP-3006 (UD4) [Taiwan]



---


P





---


Q


QUADRASTRINGS -
	Hollywood Gold Vol. 1-4. [4 LP] SMT G-2002 (QS) [Taiwan]



---


R


EDMUNDO ROS -
	Bongos From The South. Unknown Label GL-021 (RM) [Taiwan]

DIANA ROSS & THE SUPREMES -
	Greatest Hits. Tamla-Motown TM-CD4W-2037 (CD4) [Philippines]
       
NINI ROSSO -
	Nini Rosso In CD-4. Kuopin KP-6055 (CD4) [Taiwan]a



---


S


SLM RECORD LABEL -
	Unknown Title. SLM-3049 (CD4) [Taiwan]

TERRY SNYDER -
	Persuasive Percussion. Tailee TLA-52-6 (QS) [Taiwan]

CYRIL STAPLETON & HIS ORCHESTRA -
	Themes From Ryan's Daughter, Love Story & Other Hits. Tailee TLA-52-32 (QS) [Taiwan]a



---


T


ALAN TEW ORCHESTRA -
	Carnival. Tshaw Yang Records TYCD4X-4055 (CD4) [Taiwan]



---


U






---


V


VICTOR CD-4 SOUND ORCHESTRA -
	Golden Screen Theme 007 Medley. Tongsheng ST-18 (CD4) [Taiwan]



---


W


RICK WAKEMAN -
*	Journey to the Center of the Earth. Union TD-1747 (CD4) [Taiwan]

ANDY WILLIAMS -
	An Evening with. ENY EL-038 (SQ) [Taiwan]

WU LUNG RECORD COMPANY
		Title Unknown. WLX-3010 (CD4) [Taiwan]
		Title Unknown. WLX-5003 (CD4) [Taiwan]
               


---


X






---


Y



        


---


Z







---


Record Labels - A


AN SUN RECORDS [Taiwan]

ARTISTE STYLE RECORDS [Taiwan]



---


Record Labels - B


BBC TRANSCRIPTION SERVICES -
{Black & White record labels are Pirate, Green and White labels are original}



---


Record Labels - C






---


Record Labels - D






---


Record Labels - E


ENY RECORDS [Taiwan]



---


Record Labels - F


FIRST RECORD LABEL [Taiwan]



---


Record Labels - G






---


Record Labels - H


HOOVER RECORDS [Taiwan]



---


Record Labels - I






---


Record Labels - J


JIAFENG RECORD COMPANY -
	Title Unknown. JFL-1103 (CD4) [Taiwan]
	Title Unknown. JFL-1104 (CD4) [Taiwan]
	Title Unknown. JFL-1109 (CD4) [Taiwan]
	Title Unknown. JFL-1126 (CD4) [Taiwan]



---


Record Labels - K


KOUPIN RECORD LABEL [Taiwan]



---


Record Labels - L






---


Record Labels - M






---


Record Labels - N






---


Record Labels - O






---


Record Labels - P






---


Record Labels - Q






---


Record Labels - R






---


Record Labels - S


SHOCHIKU RECORDS [Taiwan]

SLM RECORD LABEL -
	Unknown Title. SLM-3049 (CD4) [Taiwan]

SMT RECORDS  [Taiwan]



---


Record Labels - T


TAILEE RECORDS [Taiwan]

TONGSHENG RECORDS [Taiwan]

TSHAW YANG RECORDS [Taiwan]



---


Record Labels - U


UNION RECORDS [Taiwan]



---


Record Labels - V






---


Record Labels - W


WU LUNG RECORD COMPANY
		Title Unknown. WLX-3010 (CD4) [Taiwan]
		Title Unknown. WLX-5003 (CD4) [Taiwan]
               


---


Record Labels - X






---


Record Labels - Y


YUNG FENG RECORDS [Taiwan]
        


---


Record Labels - Z





List Compiled and Copyright By
Mark Anderson


---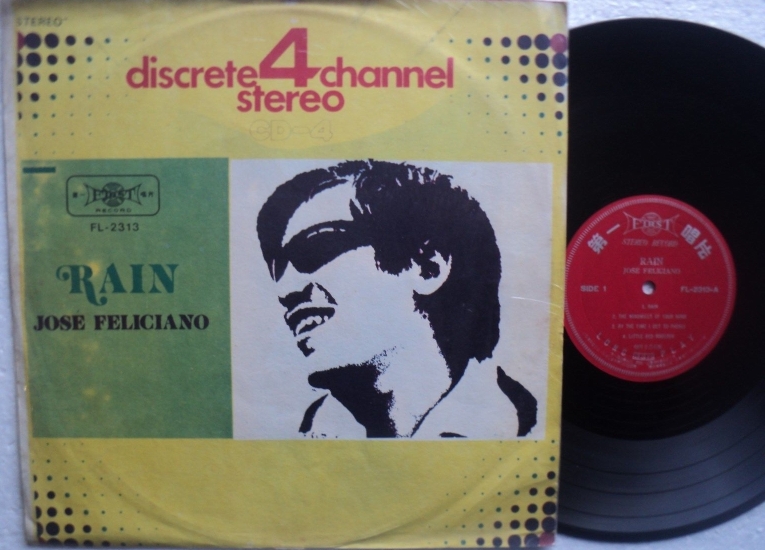 ---





Acknowledgments :

The following folks who have passed on information from their
collections with additions, comments and corrections to this list :



Nick Perugini       
Allen Wolney        		
Tom Lukashaw






---



Back to the
Quadraphonic Discography

Back to the Surround Sound Discography